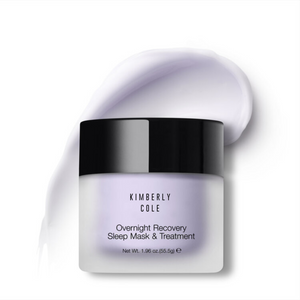 Overnight Recovery Sleep Mask
Dreams come true with this new, overnight sleep sensation. Wake to plumped, nurtured and refreshed skin that looks glowing with health. Rich in vitamins, essential fatty acids and hydration, this uniquely textured product shelters and softens skin overnight. Lavender Oil fragrance fosters a calming and relaxing sensation as this unusually-textured cream shelters skin overnight.

Overnight Repair
Plumps and nurtures skin
Fosters a calming and relaxing sensation
TO USE AS A SLEEP MASK: Before bedtime, apply a thin layer as a mask to face & neck, avoiding the immediate eye area, blotting with a tissue to absorb excess.
TO USE AS A TREATMENT: Apply to face and neck, avoiding the immediate eye area, and massage into skin.
Jojoba Seed, Grape Seed & Apricot Kernel Oils, rich in essential fatty acids, vitamins & antioxidants, help seal in moisture "Smart" Hyaluronic Acid provides intense hydration and aids in improving skin density & smoothness Glycerin lubricates, hydrates & smooths.
2.0 oz. JAR | YNC-TSL 116
Formula is compliant in US, EU, CAN, CHI. Vegan Friendly.Formulated without Alcohol, GMOs, Gluten, Corn, Oat, Parabens, Phthalates, Sulfates, Talc, Barley, Spelt or Rye. Cruelty Free. Prop 65 Compliant. RSPO Compliant. Fragrance Free. Formula is 96.09% Natural Origin Index based on ISO (16128) standard.
MADE IN THE USA.
E.U. REGISTERED (1 CPNP#)